Search Engine Optimization SEO Training in the Philippines
by Raket Pro Digital Marketing Academy
June 5, 12, 19, 26 2022. 2PM onwards . 4 Sundays. 32 Hours. Zoom Live. With E-Certificate
Want to make money online by providing SEO Services to your client? Or maybe you are business owner wanted to drive organic traffic and sales to your business by learning the SEO strategies and fundamentals from the SEO Experts
of Raket Pro Digital Marketing Academy, the leading Digital Marketing Academy based in Davao City, Philippines.
About the SEO Training Program by Raket Pro
Looking for a legit SEO Training program in the Philippines isn't as easy as you may think. Far too often, what you'll find on the web are either overpriced courses for newbies or training conducted by "experts" you've never even heard of. Unless you're willing to take serious risks with your precious time and money, saying no to these things is the smart choice. Learn SEO Tagalog and absorb the lesson faster.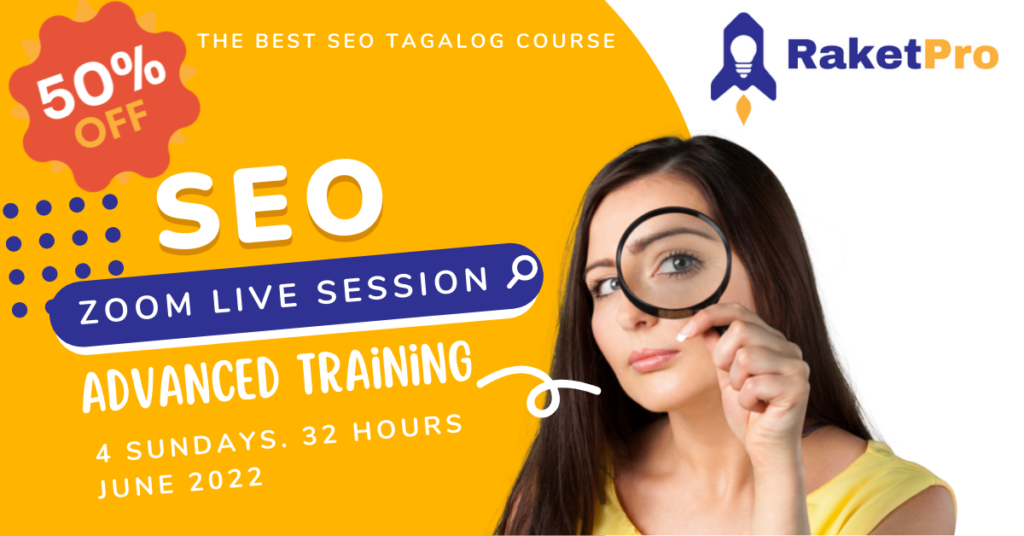 Here's What You'll Learn:
Advanced SEO Tagalog Training Course
SEO Basics And Fundamentals
Your training will begin with understanding what search engines are and its role in the modern world. From there you'll gain and appreciate how Search Marketing can impact your brand and your business. There's a crash course on Search Engine and the basics of the technology surrounding search – enough for you to understand the metrics that can drive traffic to your brand.
SEO Strategies And Tactics
You'll begin your strategy by understanding search motives, types of keywords and how to do Keyword Research and Keyword Selection.
We'll then teach you how to understand the SEO maturity of your competition to find out where your website can gain an edge in the Search Marketing.
You'll learn how to create a kick-ass website in terms of user experience and search experience and craft the right kind of content and pages to capture the attention of your audience.
Technical SEO Training
In this course, you'll learn how search engines understand the content on your site, how available and visible they are to users, and address issues such as errors and redirects.
You'll understand the value of speed, crawlability, structure, contextual silo's and how to address issues on each front.
You'll study tool integrations to your site and mark-ups that are game changers to your visibility.
SEO Tools And Metrics
Digital marketing is all about metrics. In this course, we will teach you how to use and integrate SEO Tools such as:
Google Search Console
Google Analytics
Google Keyword Planner
Google Tag Manager
Google Trends
Moz
SEMRush
AHRefs
Majestic
Spyfu
ScreamingFrog
Link Research Tools
You'll understand which SEO Metrics are measured by which tools and what the impact is on your business.
Why Invest in Search Engine Optimization – SEO Training Classes?
SEO is not an innovation. If you're a digital publisher, a business with a web presence, an online seller, or even just a fresh grad that wants an edge in the marketplace – SEO is one of those skills for tomorrow that you'll need today.
Being trained on SEO – whether it's strategy or execution – allows you to be more competitive as a business or professional. Aside from being a skill in high demand, it is also a marketing strategy with a high return on investment. With a return of 22 : 1 invested according MarketingSherpa.com. SEO needs to be the backbone of your website strategy because a website that can't be found is a website that can't get customers.
This SEO Training is perfect for:
If you're a publisher looking to monetize your site; a business owner looking for more leads; and SMB looking for more foot traffic – If you have a website you want people to see on the first page of their Google search, then our SEO training course is for you. We believe SEO is not rocket science and our experience has taught us that we can teach anyone interested in learning about SEO and how to improve their website's visibility. If you think you're one of these people, you'll benefit from hearing a few tips from our trainers:
Business owners with an existing business website looking on how to expand their reach of potential customers online
Non-profit organizations looking to increase awareness of their group
Business owners or their marketing executives looking to establish their online presence
People who want to attract more visitors on their website
Sales and marketing executives who want to learn how to improve their online presence and digital marketing strategy
People interested in a digital marketing career
Bloggers who want to generate income from their website
Businesses that need more phone calls, foot traffic, leads and customers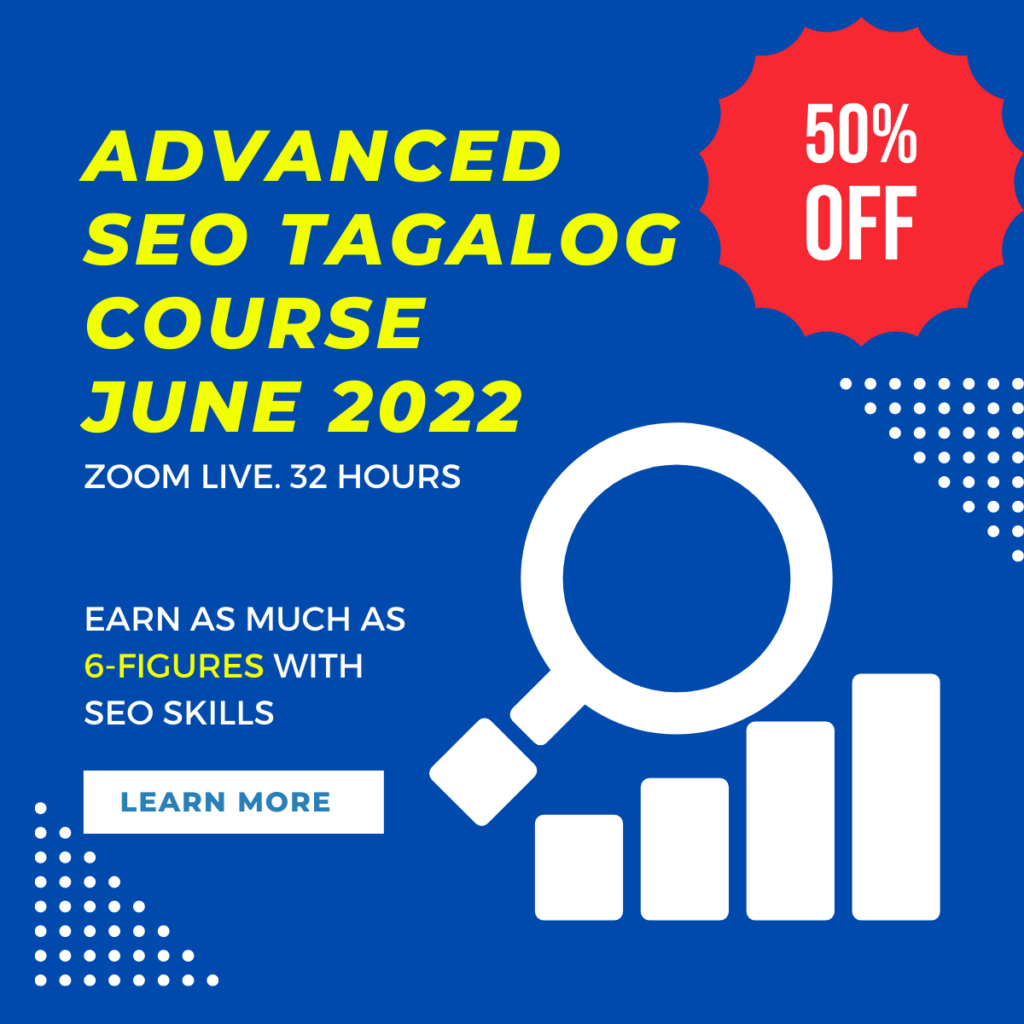 What Our Students Say about this SEO Training….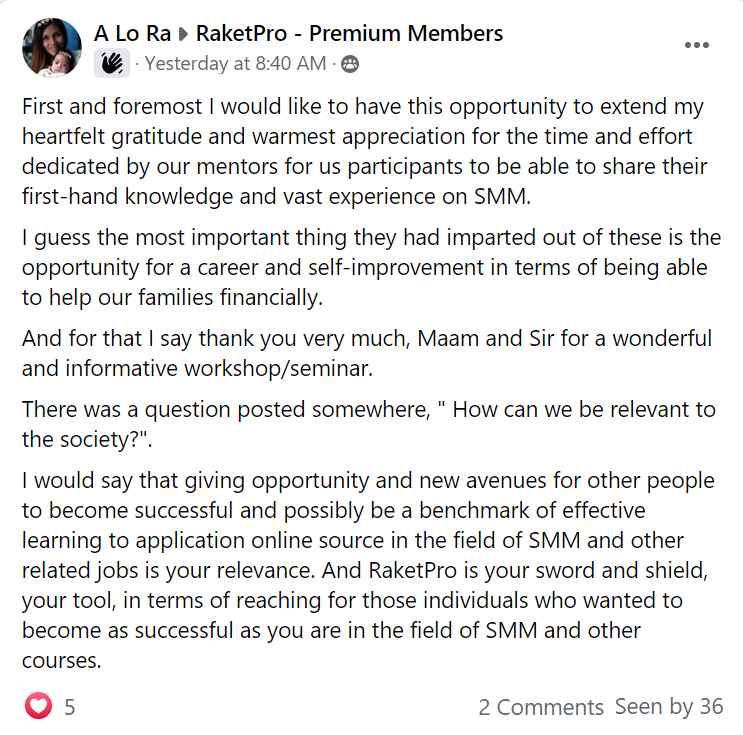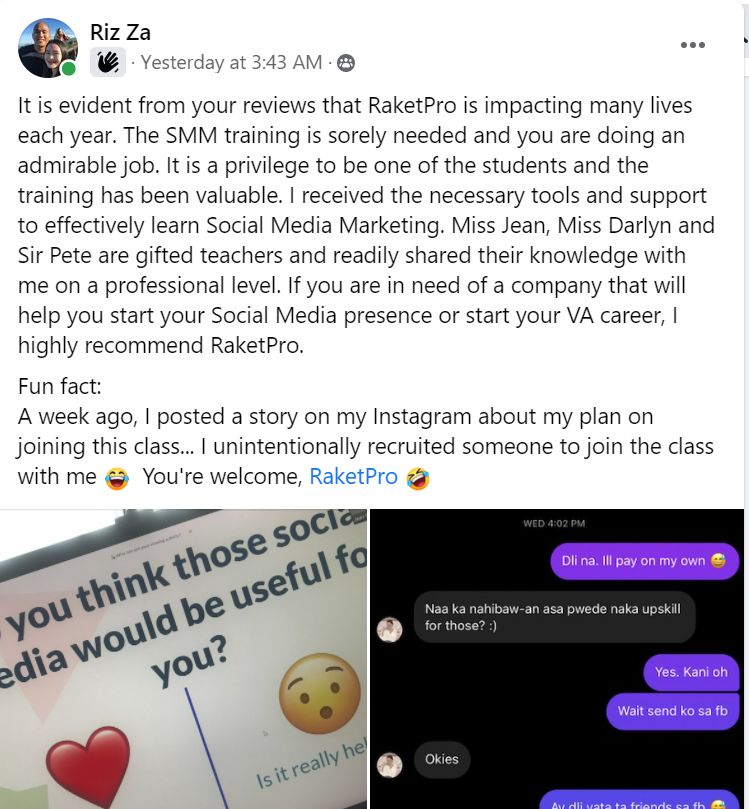 1. Fill up the application form.
Make sure you meet the requirements specified below:
At least one year of experience in SEO, web development or other related field
Must be familiar with basic SEO concepts and tactics
Motivated to learn and to become the best SEO practitioner he or she can be.
Ideally, someone paying for his own admission and not just sent by his employer as a requirement
2. Wait for the Acceptance Notification.
You will receive an email within 3 days informing you if you've been selected to train with us or if you'll be moved to the waiting list.
3. Pay the Registration Fee.
If accepted into the program, you will receive information via email on how to settle your registration fee and secure your slot.
PAYMENT TERMS
One-Time Payment:
Before: PhP 11,999.00
Now: PhP 6,999.00 settled before May 30, 2022
Installment:
Four payments of PhP 2,999 paid on the following dates:
June 5th, 12th, 19th and 26th.
GCash – 09953661160
PayPal – jeanddiaz@gmail.com
Bank Transfer – BDO 002790134150 Jean D. Palabrica
Please send your proof of payment to raketproacademy@gmail.com or PM us on Facebook.
Private One-on-One Consultation
Slots will be opened each week for you to have a 30-minute one on one time with Glen where you can ask your questions, consult him on your SEO projects and generally pick his brain.
Get Your SEO Training E-Certificate
You will be given a printable e-certificate at the end of the last day. Participants must have attended at least 80% of the total class hours to get certified.